Topic: Sliding Timers..... Props and Apps/Phone Interfaces etc.
Yeah I bet you thought this would be the Thread I mentioned a little while ago for Crossover or Alternate Universe Timers eh?
Not so much. Although..... It could have some Bearing/Relevance.
I'll start off with this Link as it saves me having to do all of the Contents from scratch. http://www.earth62.net/timer/timerpage.htm
So.... Those are the Canon Timers. Quinn's Basement Project, A Pharoah's Plaything/Tool, Govt Project and an Ambitious Corporate Scientists Test Model.
I love the Originals and I have a special fondness for the Home Made Scratch Build Timers that Fans make both of Canon Series Timers as seen here....
http://www.therpf.com/showthread.php?t=160034
But also of AU Model Timers like this...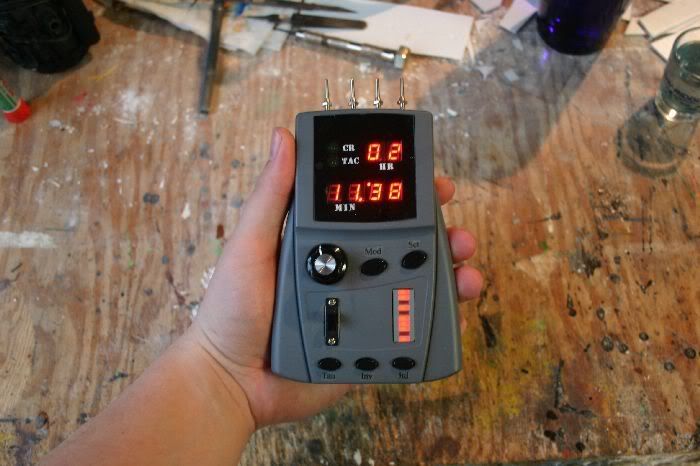 Featured on this Page of this Site: http://www.therpf.com/showthread.php?t=22385
I'm very interested in whether or not a Phone App to give our Handsets the "Timer Treatment" might be available or something we can make ourselves though?
The Jenson Timer from Exodus onwards was famously a Sega Genesis/Mega Drive Controller too so I wonder what other Console Joypads or other Electronic Toys/Gadgets might make a good Timer with some effort?
The Sega Dreamcast Pad would probably be the easiest due to it's Modular Nature and Display Screen/VMU option but the N64 Joypad could be fun to modify with its three Handle Grips and Central Grip with Trigger Button.
Thoughts Guys and Girls?
"It's only a matter of time. Were I in your shoes, I would spend my last earthly hours enjoying the world. Of course, if you wish, you can spend them fighting for a lost cause.... But you know that you've lost." -Kane-